Asia's Rapid Growth Makes Now A Great Time For An MBA
Asia is recovering from the coronavirus pandemic quicker than any other region in the world
Asia's Rapid Growth Makes Now A Great Time For An MBA
Asia is recovering from the coronavirus pandemic quicker than any other region in the world.
While the global economy fell by 3.5% in 2020, the economy of emerging and developing Asia—a region comprising over 20 countries including India, Vietnam, and Malaysia—fell by just 1.1%. China's economy even grew in 2020, setting it apart from every other country.
Some of the long-term consequences of the pandemic, such as the increasing use of remote working technology, could also leave Asia well placed to continue to grow in the future. McKinsey predicts Asia will account for more than half of the world's economy in years to come.
If you want to be part of this trend, an MBA in Asia could be the solution—and as the natural bridge between East and West, Hong Kong is a popular and appealing destination.
In Hong Kong, MBA programs offered by renowned local schools like the University of Hong Kong (HKU) familiarize internationals with Chinese business culture and help students tap into Asia's economic boom. 90% of graduates from the program go on to work in Asia, including 50% in Hong Kong, 30% in countries like Thailand and Singapore, and 10% in Mainland China.
Asian GDP | An Upward Trend
What's the impact of COVID-19 on Asia? The Asian Development Bank projects that China, the largest economy in Asia, will generate 7.7% economic growth in 2021.
Wider Asian GDP is also expected to bounce back, with the International Monetary Fund predicting emerging and developing countries in Asia to grow at a rate of 8.3% in 2021.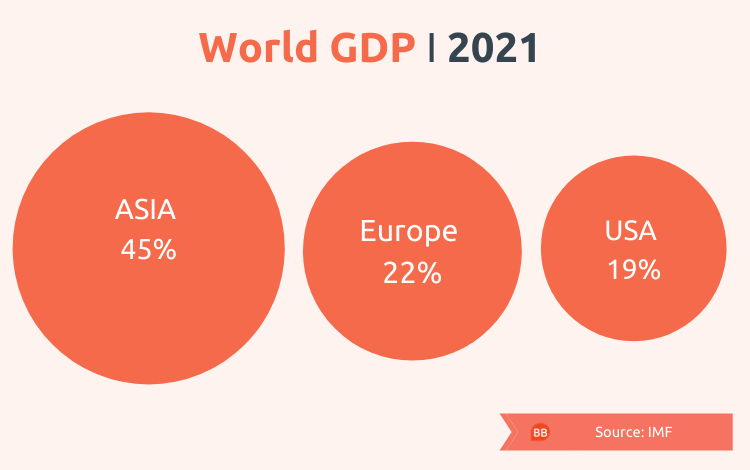 Much of this rebound is helped by Asia's strong position in tech, as an exporter of computers, laptops and other high-tech devices, which have become more important than ever during the pandemic.
In 2019, China made up 50% of the world's computer exports, while Japan exports almost 20% of the world's high technology. The shift to working from home during the pandemic has driven sales of these products to the highest levels in years.
McKinsey predicts that Asia's strong post-pandemic recovery, built on its technological prowess, will allow it to further extend its reach and amass 52% of the world's GDP by 2040.
Asia is also capable of sustaining its economy alone. Even before the pandemic, 60% of trade within Asia was intraregional as it makes up 60% of the world's population and also accounts for between 50% and 70% of the world's demand for essential materials like copper, iron ore, and nickel.
Why Hong Kong?
Tapping into these opportunities is not that straightforward for professionals from the west, but studying an MBA in Asia can help bridge the gap.
Hong Kong is regarded as a gateway to business in China. In 2018, over half of the $60.2 billion raised in IPOs by Chinese firms came through Hong Kong Stock Exchange listings.
Hong Kong is also the largest offshore trading hub of Chinese Yuan in the world and an integral part of its trade. 63%of investment moving in and out of China in 2017 went through Hong Kong.
The University of Hong Kong MBA program draws on Hong Kong's unique position, and students on the Hong Kong/China track, one of three specializations on offer, have the opportunity to study at Fudan University in Shanghai and further immerse themselves in Chinese business culture.
Through HKU's China Immersion Program and business treks, students visit cities and meet companies in China. Students are also able to connect with the extensive HKU network, comprising more than 245,000 alumni, many of whom are based in the region.
Students on the HKU MBA are also introduced to Asia's technological landscape through modules in managing digital innovation and marketing for tech-intensive industries.
As China is the driving force behind Asia's projected growth in the future, enrolling in a Hong Kong MBA program could help you tap into growing career opportunities in Asia for years to come.