These MBAs Launched Their Dream Tech Startups After Business School
Find out how the Hong Kong University MBA helped three entrepreneurs launch successful ventures in FinTech, AgriTech and EdTech
These MBAs Launched Their Dream Tech Startups After Business School
Musheer Ahmed's latest FinTech fair was attended by over 3,000 people, Ariel Lai's EdTech firm uses mindfulness to help improve children's concentration spans, and Raymond Mak's AgriTech company runs cutting-edge urban farms in Hong Kong.
The three young entrepreneurs have each launched tech startups disrupting traditional industries, and they all have one thing in common.
Before launching their thriving tech startups, all three graduated from The University of Hong Kong (HKU) Business School's MBA program, where students are taught the business skills and expertise needed to successfully launch their own business ventures.
Switching to entrepreneurship
Before coming to HKU, neither Raymond, Ariel, or Musheer had launched a startup before.
Musheer had worked as a fixed income and commodities trader in Bangalore, while Ariel held business development roles at corporate banks like HSBC and Citi. Raymond worked as a managing consultant at PwC before choosing to study an MBA in 2015.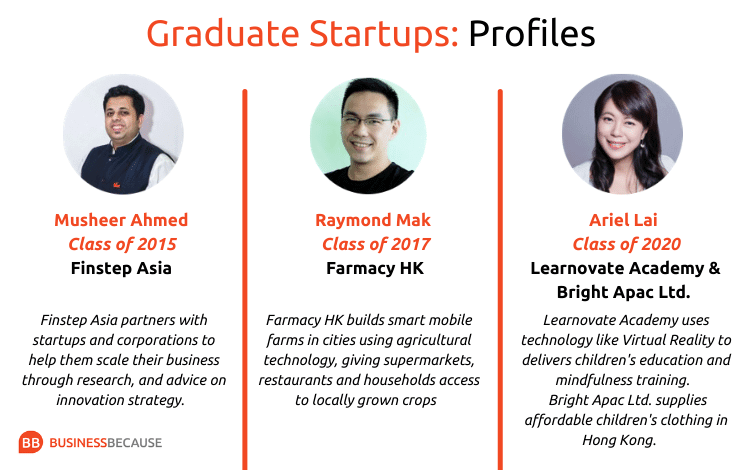 Despite having successful careers in these industries, each dreamed of pursuing their own entrepreneurial venture and felt an MBA would help them get there.
"I come from an entrepreneurial background, my dad was a businessman, and I helped him throughout my childhood with various entrepreneurial gigs," says Musheer.
"I always envisaged that I would be working as an entrepreneur eventually and the MBA helped shape that."
Ariel was laid off from her role at Barclays during the financial crash in 2008. Afterward she felt launching and running her own business would offer her a way of taking more control over her career.
"I wanted to start a business 10 years ago but something was always missing, so I decided to go to business school to learn about the process," she says.
Developing an entrepreneurial skillset
Students in HKU's MBA program are taught a mixture of core modules, covering the fundamentals of business, and electives, which they can choose to focus on entrepreneurial topics.
One key module for would-be entrepreneurs is the Business Lab program, where students learn the essential steps in turning an idea into a successful company.
Classes cover subjects like researching target markets, developing marketing strategies, and generating revenue. Students are tasked with producing business plans of their own by the end of the course.
Teaching is delivered by entrepreneurship professors who have launched their own startups in the past, alongside guest lecturers who are successful business leaders and entrepreneurs, giving students an idea of what they have to do to succeed.
Since graduating in 2015, Musheer has used his entrepreneurial skills to set up Finstep Asia, a FinTech company which provides consultancy services to startups and corporates to help them innovate and grow.
He has also co-founded other FinTech related ventures, including the Global Impact FinTech Association, IndiaTech Hong Kong, and the FinTech Association of Hong Kong.
"The Business Lab definitely helped to fine tune my entrepreneurial abilities, it was a really well structured program for learning how to launch your own startup," he says.
Raymond met his founding team and began developing his startup during the Business Lab program. Farmacy HK is an AgriTech company which uses technologies like full automation to create smart mobile farms which provide fresh fruits and vegetables to Hong Kong.
"The Business Lab was one of the courses which really defined me as an entrepreneur," he says, "we were able to say: 'this isn't just a good project, we can bring it into reality and make it a successful business."
All three entrepreneurs were able to build a strong network at HKU which they could use to their advantage.
While Raymond met his founding team members during the course, Ariel was able to use the new connections she made in her part-time MBA to secure funding for her first EdTech startup, Learnovate Academy.
Learnovate uses technology to provide a suite of educational services and soft skill learning for children, including mindfulness training using virtual reality.
"Usually in Hong Kong it takes two to three years to get first round funding for a startup but we managed to get that in the first twelve months," she says.
"It happened exponentially and all the professors and the alumni were helpful in connecting me with the right people, so it would have taken much longer if it wasn't for HKU."
---
Managing a successful startup
Around 22% of startups fail within their first year, and forming an idea and acquiring initial rounds of funding is often only the beginning of a very difficult journey.
Continued success requires an understanding of a broad range of business functions.
Raymond's work as CEO of Farmacy HK sees him working with balance sheets, creating marketing campaigns, and liaising with investors on financial plans. While this means having a wide range of responsibilities, he believes he is capable because of what he learned at HKU.
"All these skills come from my time in the MBA," he says.
For those considering making the jump to launching their own business, an MBA can guide you through the process and provide you with the network and skills needed to have continued success.
For Ariel, it was essential in allowing her to follow her entrepreneurial dream, "Without it I wouldn't have started my two businesses. I would still be in banking," she says.